10 Feb

B Corp Announcement + Product Locator (November 2020)

The purity of nature, the precision of science.™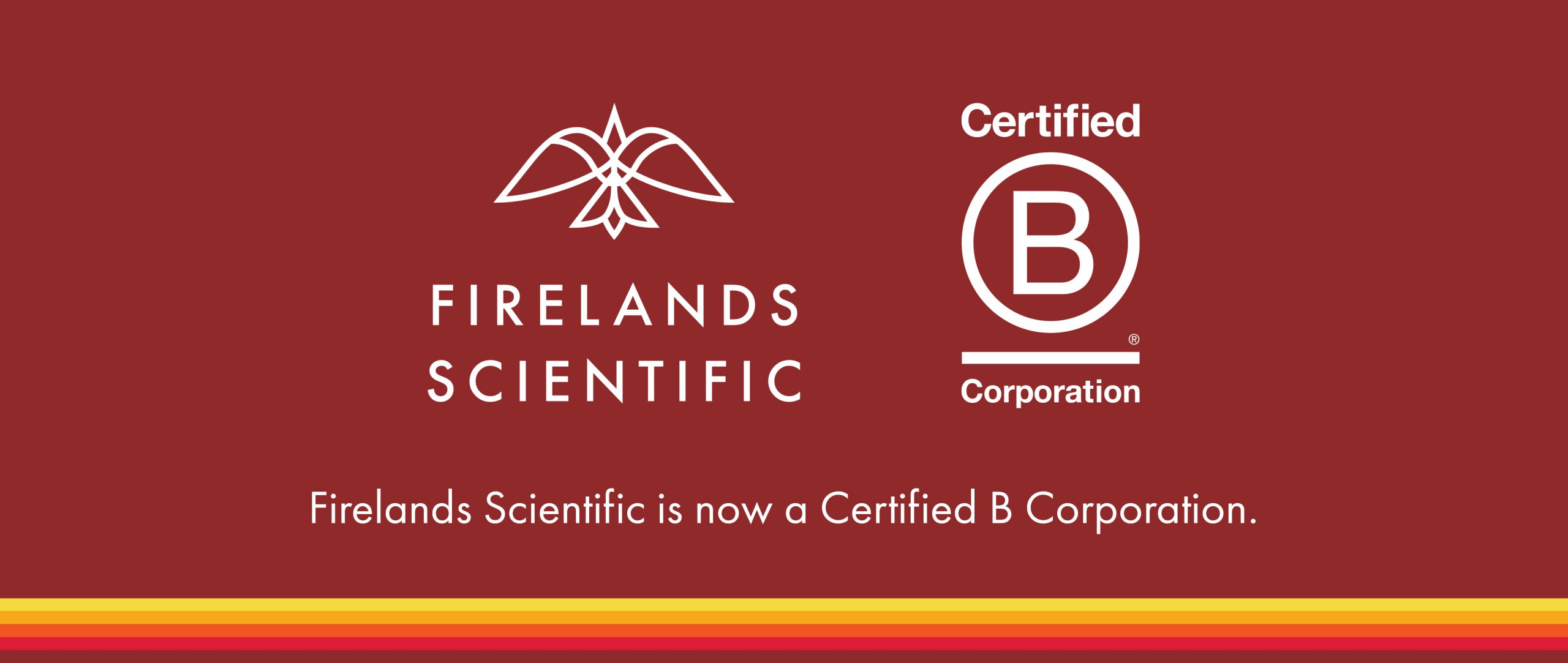 Introducing Firelands Scientific's Product Locator + B Corp Announcement
We Are Proud to Announce that Firelands Scientific is a Certified B Corporation!

We are Ohio's first Medical Cannabis B Corp, and we are the world's only Medical Cannabis company that currently holds this certification.
B Corporation Certification, often referred to as B Corp, is a recognition for companies using the power of business to build a more inclusive and sustainable economy. To earn this certification, companies are rated along a comprehensive scoring system that requires all B Corps to meet the highest standards of verified social and environmental performance, transparency, and accountability. Several B Corps you might have heard of already are Ben & Jerry's, Patagonia and Athleta.

We've been using business as a force for good for more than two years since our founding, and we're proud to be recognized for our responsible business practices. Earning B Corp Certification is a natural extension of our impact-driven business model. Our values of respect, taking ownership, innovation, and being a force for good in the World are as much a part of our identity as pioneering the industry.

You can learn more about our mission, values, and responsible business practices by clicking the button below.
Introducing Ohio's First Product Locator!
Are you looking for the best deal on a specific Firelands Scientific product? We are proud to introduce Ohio's first Product Locator, powered by iHeartJane.
Why is This Great News for Patients?
• Save time by shopping all of Ohio's iHeartJane enabled dispensary menus at once!
• Compare dispensary prices with a single search
• Click to add products directly to the iHeartJane shopping cart for your selected dispensary
• Check out, pick up, and enjoy your extra time and money!
How to Use Fi Sci Product Locator
(1) Go to
www.FirelandsScientific.com/FiSci-Product-Locator/
(2) Browse through all of our products using the "Search" or "Filter" features
(scroll up on the page for additional directions)
(3) Click on any particular product to compare pricing among available dispensaries
It's never been easier to find your favorite Firelands Scientific products - visit our Product Locator tool today!
We Have Redesigned Our Website & Added Additional Resources!
You asked - and we listened! Now, you can use FirelandsScientific.com to – not only find the best deals on specific products – but also to gather additional information on each of our products!

Easy Navigation
• Under the "Products" tab on our website you can navigate between all of the different products we currently offer

Learn More
• You can click on any of the particular products to learn more

Supporting Resources
• Most of our pages now have resources to accompany the products, such as:

• Best Storage and Use Tips for our Phoenix Nest Platform
• Full Firelands Scientific Genetics Guide with Terpene Profiles
• The Benefits of Solventless and Full Spectrum
• And more!

Start exploring our website to see a full list of our products, as well as learning more about our products!
Pink with Purpose: Thank You!
We want to thank all of those that participated in our Pink with Purpose iniative for Breast Cancer Awareness Month.
Because of your participation, Firelands will be making a total donation of $15,000 to the Breast Cancer Fund of Ohio! These funds will go towards making the lives of men and women affected by breast cancer in Ohio easier.
To learn more about the Breast Cancer Fund of Ohio and how you can help, visit
https://bcfohio.org/
.
We are hitting the road and will be in-person at the following dispensaries this month - come say hello! At each Patient Engagement Event we will be bringing with us a 20% discount:

• 11.6.2020 (Friday) - The Forest - *Grand Opening* in Springfield, OH

• 11.9.2020 (Monday) - Eagle Dispensary - Wapakoneta, OH

• 11.10.2020 (Tuesday) - Debbie's Dispensary - Hillsboro, OH

• 11.13.2020 (Friday) - Strawberry Fields - Marietta, OH

• 11.13.2020 (Friday) - Strawberry Fields - Logan, OH

• 11.19.2020 (Thursday) - Strawberry Fields - Dayton, OH

• 11.19.2020 (Thursday) - Strawberry Fields - Monroe, OH
Copyright © 2020 Firelands Scientific, All rights reserved.

Nothing for sale on this platform. Products promoted via this platform may be unlawful outside of the State of Ohio.

Our mailing address is:
2300 University Drive East, Huron, OH 44839

Want to change how you receive these emails?
You can update your preferences or unsubscribe from this list.